Were you looking for Golden Freddy or Silver Freddy?
New Golden Freddy is an addition to Abandoned in part 27.
Abandoned
Edit
In Part 27, Golden freddy transformed into New Golden Freddy, or Golden Freddy Ω. He is radially different from the original GF. He looks much newer than the original, with his ear not missing, and having less brown spots. It appears that New Golden Freddy is much more powerful than the original, as he can levetate and drag someone into a pocket dimension. he can change the pocket dimension to his will, but he can't kill someone in said dimension.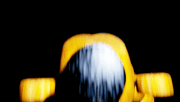 Ad blocker interference detected!
Wikia is a free-to-use site that makes money from advertising. We have a modified experience for viewers using ad blockers

Wikia is not accessible if you've made further modifications. Remove the custom ad blocker rule(s) and the page will load as expected.